AYIOS GEORGIOS
N° 1 a
Town / Village : Afendrika / Efendrika
District : Famagusta
DESCRIPTION :
The church of Ayios Georgios was originally a domed Byzntine structure . It was single aisled with a double apse at the eastern end and niches on either side. The rounded-square drum under the fallen dome rested on arches liking the four piers just west of the apses.
Period : end of the 1Oth century.
OUTSTANDING VALUE :
By the 8th century Cyprus seems to have recovered from the Arab raids and though smaller than those of the previous period new churches were built. The churches had sturdy masonry piers to divide the nave from the aisles, wooden roofs, and apsed east ends. Ayios Georgios belongs to this group.
The church of Ayios Georgios is one first of churches in Afendrika area.
MAPS / LINKS
DOCUMENTS / BIBLIOGRAPHY
PHOTOS / VIDEOS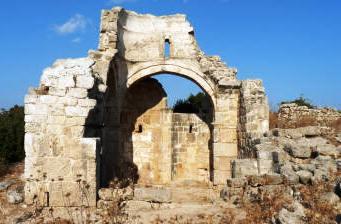 NEWS / THREATS
ADVERTS :
- 7-Proven Insider Secrets
The Least Talked About Internet Marketing Strategies
http://go.jyhelger.franckcarat.1.1tpe.net