ST ANNA
N° 21 j
Town / Village : Famagusta / Within the walls
District : Famagusta
DESCRIPTION :
Single-aisled church. Single nave of two bays. Vaulted roof supported on rib vaults. The walls are supported by exterior buttresses between which are placed tall windows. The apse is polygonal with buttresses. Originally the façade supported a belfry.
The church presents gothic features of southern France.
The church used to have wall paintings and it bears many inscriptions.
Period : 14th century.
OUTSTANDING VALUE :
MAPS / LINKS
DOCUMENTS / BIBLIOGRAPHY
PHOTOS / VIDEOS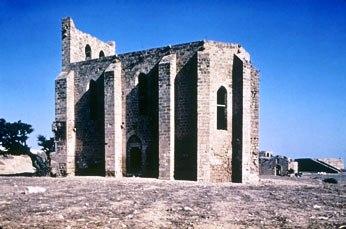 NEWS / THREATS
ADVERTS :
- Pamper Your Cat
100 tempting and tasty treats for your cat ...