MEDRESSES
N° 21 q
Town / Village : Ammochostos / Gazimagusa
District : Famagusta
DESCRIPTION :
An interesting mescid is set against the side of the Ravelin bastion. It was erected in 1618 and there is a tradition that it was the first medresse (theological school) in the island.
There would have been several other medresses in North Cyprus, but very little now remains except for a building of classical Ottoman plan, whose first purpose was as a religious school adjacent to Lala Mustafa Pasha mosque (cathedral St Nicholas). Unfortunately the decorative painted plaster which used to surround the dome in the main hall has not survived.
Period : Ottoman period.
OUTSTANDING VALUE :
MAPS / LINKS
DOCUMENTS / BIBLIOGRAPHY
PHOTOS / VIDEOS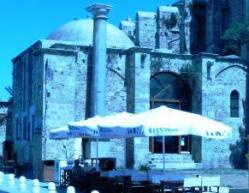 NEWS / THREATS
ADVERTS :
- 111 EGG Recipes
COOKING OF EGGS