ROYAL PALACE
N° 21 t
Town / Village :
District : Famagusta
DESCRIPTION :
This palace is situated in the heart of the walled town, opposite the cathedral of St Nicholas. It is propable that the original building was a royal palace of the Lusignans, built in the 13th century. The palace has a large rectangular courtyard and the surviving buildings surrounding it are : the entrance with the guards' rooms, a section of the east wing and the old chapel which is the only part of the Lusignian palace that survives.
During the Venetian period it was used as the official residence of the Venetian Proveditori (governors). The building underwent major renovations and additions throughout the 16th century and characteristics of the Renaissance period replaced Gothic features. The palace's entrance is in the east wing and its facade, which dates to the Venitian period, has three semicircular arches flanked by four granite columns brought from the ruins of Salamis.
With the Ottoman siege of Famagusta in 1571 the palace suffered greatly from bombardment and was left in a ruinous state.
During the 19th century sections of the rest of the wings still stood and there were arches in the courtyard.
Period : 13th century & 16th century.
OUTSTANDING VALUE :
Royal palace of the Lusignans & Offical residence of the Venitian Governors
MAPS / LINKS
DOCUMENTS / BIBLIOGRAPHY
PHOTOS / VIDEOS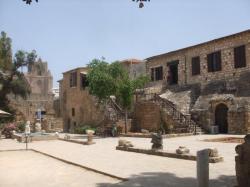 NEWS / THREATS
ADVERTS :
- Info Product Creation Strategies
Discover The Jealously Guarded Secrets Of TOP Infopreneurs In Creating HOT Selling Info Products On The Fly And Dominating Their Niche Markets With Absurd Ease!